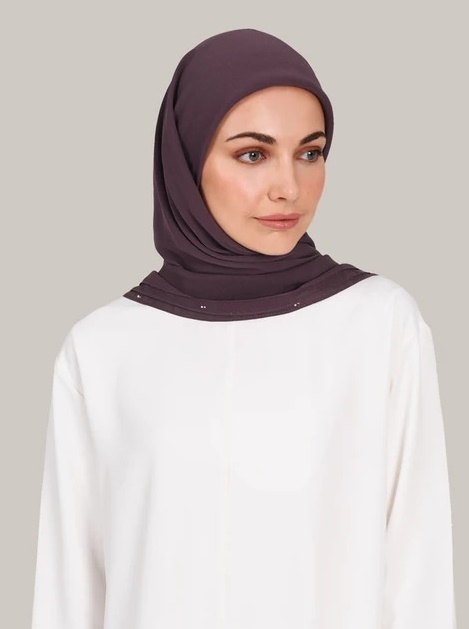 YASMINE PLEATED SWAROVSKI - QUAIL
Our brand has gone through several evolutions in 2017. We have expanded our product line immensely and now we are offering another new item for all our fans.Our latest collection is a major throwback to the past. Stroll down memory lane with us and try to remember the first time you put on your hijab. What was the first hijab you wore? For most of us, especially Malaysians it would be the 'bawal'.
We feel that the bawal is due for a comeback, that's why we're releasing the YASMINE by NH Collection. It's a square-shaped scarf made from wool chiffon, the fabric is easy to form, has a soft texture, not slippery and would stay in place however you wear it. YASMINE's width is 45 inches all around so you have plenty of fabric to play with, use your creativity to add a fashionable twist to the design. It's time for us to rock the bawal and give it a fresh new look!
There are tons of colours to choose from because YASMINE will be available in 55 shades. With a whole spectrum of hues, you won't encounter any problems finding the perfect scarf to match every outfit in your wardrobe. We've kept the YASMINE simple and minimal, only a a discreet metal tag adorn one corner of the scarf, this makes it an awesome choice for any ensemble.
YASMINE will appeal to everyone, it is an evergreen design, no matter who you are, with this collection, you'll be an absolute stunner. Young fashinonistas, mature career women or even busy mothers, make it a part of your style arsenal, you can never go wrong with YASMINE by NH.
Collection : Yasmine Pleated Swarovski
Official Hashtag : #yasminebyNH
Price : RM 69
Material : Wool Chiffon
**Please be informed that colors may differ slightly due to camera flash, computer settings & editing. Thank you.
---