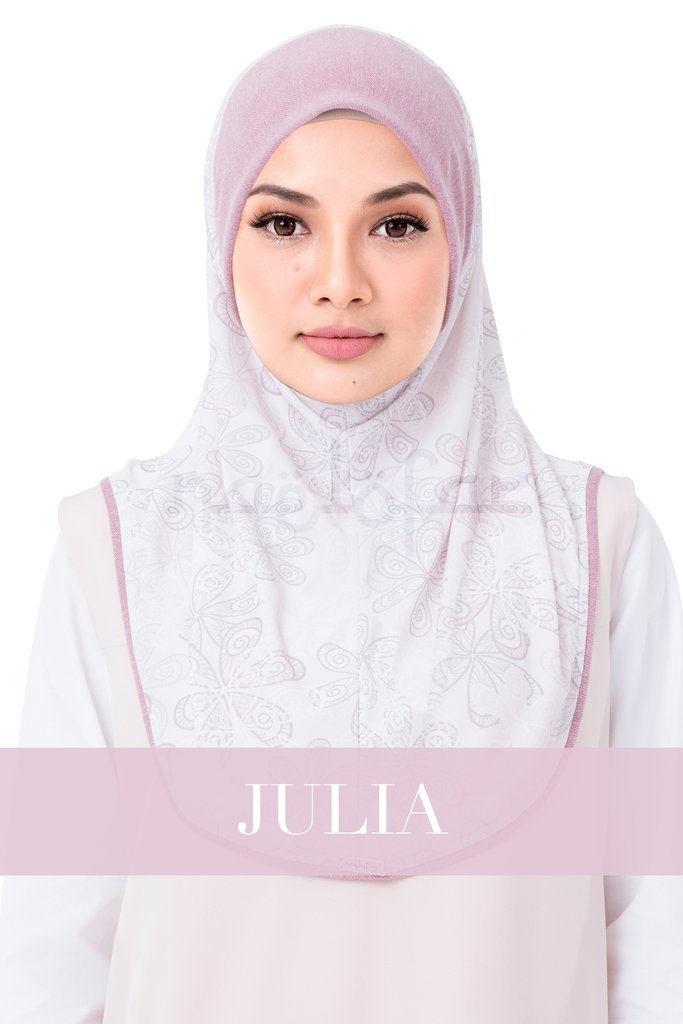 BLOSSOM - JULIA
Whether it's juggling a demanding career with being a mum, or struggling to strike a balance between work and your personal life, trying to navigate your way through life is now becoming more challenging than ever. Getting ready in the morning or dressing up for an event can be quite a rushed affair, especially when you have limited time on your hands.

Blossom is one of our biggest instant hijab collections yet, offering 15 designs in an array of pastels prints that you can so effortlessly match with any outfit in your wardrobe.

Every design was given a sweet, feminine name to represent the soft and graceful nature of each floral print in the collection. The hijabs are created using the easily washable moss crepe, a low maintenance material that is resilient and durable enough for daily wear.

Each hijab has a denim print soft awning, sewn immaculately to follow the curve of your forehead so it stays neatly in place to keep you looking tidy and well-groomed. Every design in the Blossom collection is a slip-on, which means that you can wear them without the need of any additional pins or brooches. A metal tag adorns the middle of the hem to help add weight and allow the hijab to drape flawlessly on your shoulder. The designs are extremely convenient and absolutely fuss-free, perfect for ladies looking to simplify their life and reduce some stress in their busy schedules.
LARA
Lara is earthy and neutral, gorgeous paired with pastel coloured outfits for an image of calmness and serenity. The awning and border along the hem of the hijab is done in matching cream for a design that would look amazing in any setting.
JULIA
Julia has an awning and a border in carnation pink, framing a delicate cornucopia of gorgeous blooms to produce a style that is exquisitely feminine and elegant.

ELZA
Dark grey rules in Elza with the awning and hem coloured in a sombre shade that would match best with structured pieces and monochrome tones. Bursts of pink help to soften the grayness to produce a design that will work well with casual or formal attire.

KATE
Kate is fun and flirty. The print is big and bold, with eye-catching flowers coloured in blush and grey, complimented by a creamy pink awning and hem for a design that would stand out in any crowd.

ELLE
Elle is ideal for fans of soft girly shades. The lilac awning and hem blends well with fuchsia and pink flowers featured in the print, creating a super feminine look that will be favoured by many.

JENA
For lovers of timeless grey, Jena would be the ideal pick. Dark grey awning and hem create an ideal frame for a print made up of tropical flowers, it's a distinct design that is strong and unabashed.

NATALIA
Natalia has a subtle print that would be suitable for ladies preferring a more understated design. It's a beauty in pink with an awning and hem in this popular colour, making it an ideal complimentary partner to billowy dresses and feminine frocks.

LINDA
Contrast is key when it comes to Linda. A slate grey hem and awning juxtapose a floral print in peach and baby blue for a striking design that will add a playful twist to any ensemble.

SALLY
Grey, peach and sky blue tones come together wonderfully in Sally. The colours merge in a charming fern print that is both youthful and enticing.

MADISON
In Madison, a grey awning and a grey border seamlessly blend into a gorgeous floral print to create a refreshing and appealing design.

CLAIRE
Florals and pink are combined in the heavenly Claire. It's an uplifting creation that would add charm and delight to whatever you wear.

JOANNA
Muted colours rule the palette in Joanna, creating a piece that is versatile and easy to match.

HAZEL
Hazel's colour theme of pink and baby blue adds a youthful and exuberant feel to any outfit you pair it with.

CAMILA
With a colour theme of lilac and blue, Camilla is a whimsical design that evokes a sense of purity and innocence.

IVY
You won't go unnoticed in the vibrant Ivy. Ferns feature prominently in the print, coloured in different shades of blue for a fun and exciting design that adds a rejuvenating burst of brightness to your look.

Total of Blossom collection : 15 design
Type : Instant
Price : RM 73
Material : Printed Moss Crepe with Denim Soft Awning
**Please be informed that colors may differ slightly due to camera flash, computer settings & editing.
---